Covid-19 has all of us looking for ways to keep training while staying at home and being socially responsible. There is a lot of information, including the TrainingBeta At-Home Training Program, out there right now to help you train at home no matter how limited your equipment is. With all of this information available, there's no reason you can't find a way to keep training and progressing towards your climbing goals.
That said, we are getting a lot of questions from route climbers about how to go about training endurance from home. I get it. You trained hard all winter. You're feeling fit and ready to get after it on your projects this spring. Then, bam. The coronavirus hit and you're stuck at home feeling your hard-won endurance slipping away.
This situation sucks. No way around it.
While I fully understand where this sentiment comes from and am even in a similar situation with my personal climbing, I don't think it's the best way to think about training during quarantine, and it's leading to a lot of unnecessary anxiety and missed training opportunities.
To get this discussion started, I'm just going to say it: You're going to lose endurance during this pandemic.
And you shouldn't worry about it.
Now, I know you're not going to just take my word for it, so let's take a closer look.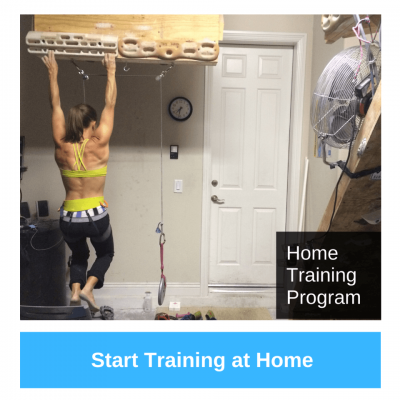 Why You're Going to Lose Endurance
The main reason why you are going to lose endurance during these times is because of equipment issues. This should be fairly obvious. Without access to outdoor climbing or to the nice lead walls at your normal climbing gym, you just aren't going to get in your normal volume of pitches. If you're normally a weekend warrior who climbs outside on the weekends and indoors on Tuesdays and Thursdays, we could be talking about twenty or more pitches a week. That's a lot of lost volume and there's really no getting around that in our current situation.
But what about maintaining your endurance with the equipment you do have available at home?
Let's imagine for a second that you a really great home training situation with a home wall, a hangboard, a good weight training setup, and plenty of motivation. Even with this great setup, which most people don't currently have, you are still going to run into equipment issues trying to train endurance. Let's take one piece of equipment at a time.
Home Walls
Most home bouldering walls are steep and small. The combination of both of these features makes them much more suited to hard bouldering than endurance circuits. Yes, with big enough holds, you can set up longer circuits on your home wall, but unless you are a fairly advanced climber (say 5.12+ and up) it's still going to be hard to stay on a 45-degree wall doing lap after lap of your circuit to effectively train endurance.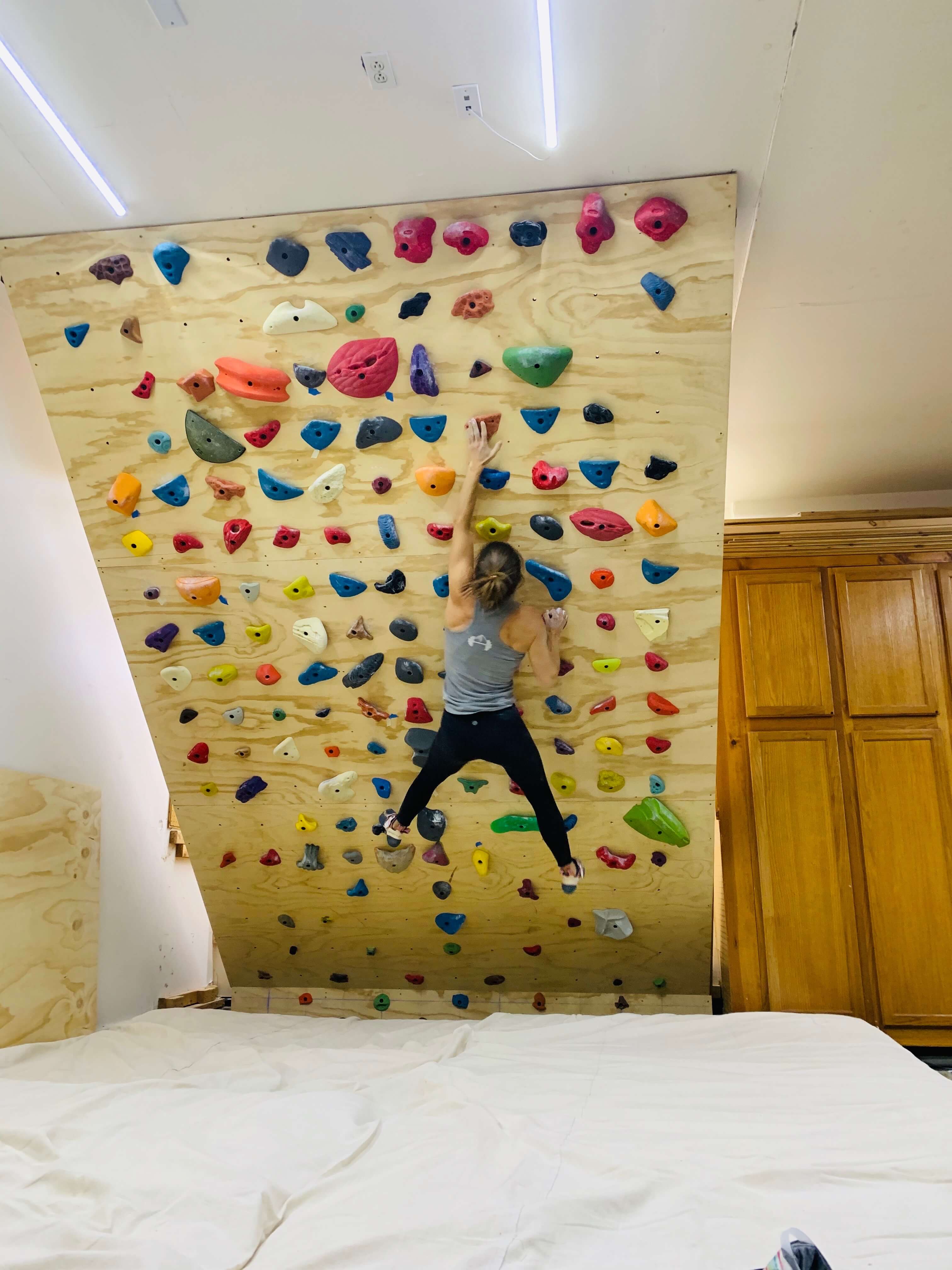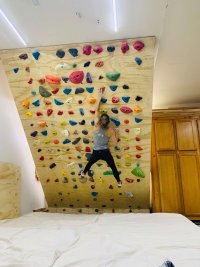 Neely limit bouldering on her recently built home wall.
Hangboards
There are ways to train endurance on the hangboard. To do so, however, you need to be able to manipulate the intensity and this means you're also going to need a pulley system and weights to use as assistance so you can hang at less than 100% body weight.
Personally, I've got several issues with training endurance on the hangboard. First, it's heinously boring. No way around that one. Second, even though the hanging you'd be doing is pretty low intensity, adding that much hanging into your training is going to place a lot of additional strain on your shoulders, elbows, and fingers. If you have a good training background on the hangboard, I do think it can be done safely, but even in that situation, I don't think it's the best use of your time. More on that later.
Weights/Bodyweight
Whether you have a nice weight setup or are just using bodyweight exercises to train at home, neither of these training modalities offers effective endurance training options for climbing. The reason for this is that when we talk about the physical component of climbing endurance, we are really talking about the capacity of the forearms, not the general aerobic endurance required to do things like run for long periods of time. Working up to being able to do longer/harder sessions with these training modalities is going to increase your general work capacity, which is a good thing, but it isn't going to prevent you from getting pumped next time you're able to get out climbing.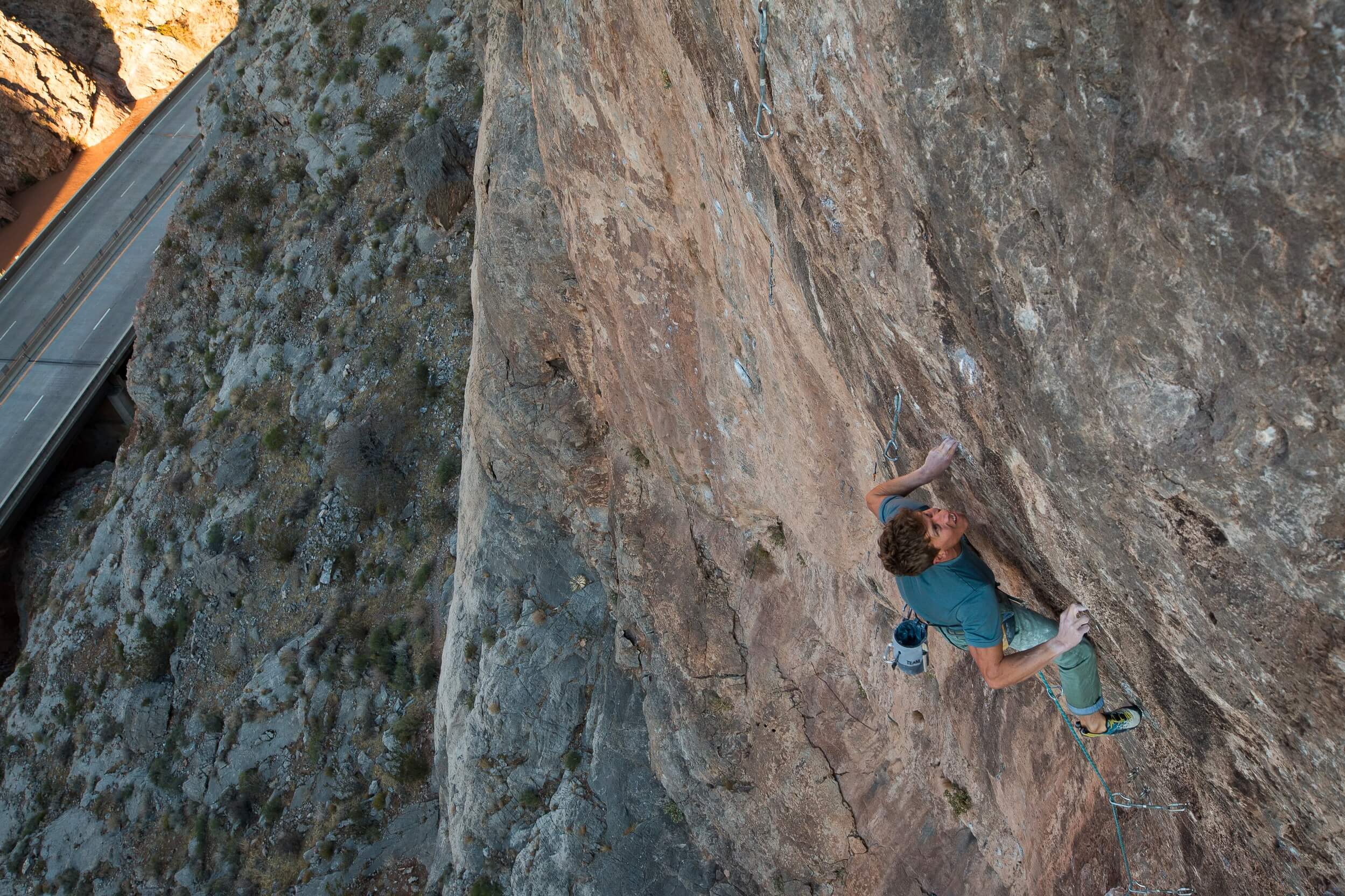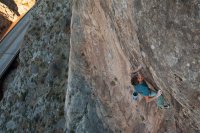 Nik Berry high off the deck and eyeing up the crux move of Planet Earth 5.14a at the VRG | Photo: Matt Pincus | @mpincus87
Why Losing Endurance is Ok
Ok, that's the "bad" news. Now let's look at why this inevitable drop in your endurance levels is ok.
You've Been Here Before (even if you don't know it…)
The first reason to not freak out about losing your endurance during the pandemic is a common sense one. You've lost your endurance and gotten it back before.
Climbers who switch between styles know this already. Spend the winter focused on bouldering and you're going to get pumped when you get back on a rope in the spring. The good news is once you are getting pitches in consistently you won't be getting pumped for long and you'll still feel the positive strength/power benefits of your winter bouldering. The same can be true during this period of social distancing.
I know that those of you route climbers who would rather not climb than go bouldering probably don't believe me. If you're one of those climbers, really think about it. Do you have top-level endurance year-round? I doubt it. Far more likely is that it ebbs and flows based on your climbing seasons and projects. What about injury? Most climbers have had to take some time off due to injury. When you were able to climb again were you as fit as ever? Probably not, but you worked through it and have sent routes since then. All of these scenarios should also show you that it isn't that hard to regain endurance.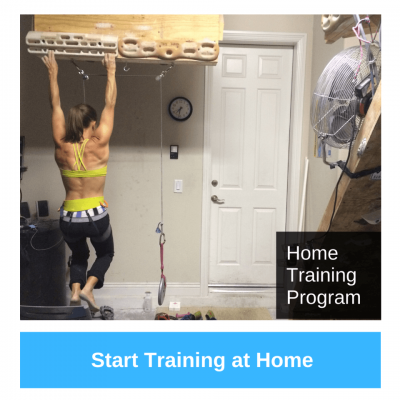 Transient vs Persistent Adaptations
The second reason why a temporary drop in your endurance levels is ok has to do with the type of adaptations endurance really is. Endurance in climbing is primarily a metabolic adaptation, meaning that it is gained by optimizing the use of certain energy systems in the forearms.
This is obviously an oversimplification. For the purposes of this discussion, however, all you need to remember is that metabolic adaptations are more transient, while attributes like strength, which depends on structural and neurological adaptations, are more persistent. To sum all this up, endurance can be gained and lost quickly while strength is gained and lost more slowly. You probably won't feel super fit your first day out sport climbing, but that's ok. Once you get back into the swing of climbing outside, your endurance will come back quickly.
Endurance is Style and Skill Dependent
The final reason why it's ok to let your endurance levels drop right now is that endurance is dependent on both style and skill. What I mean here is there's a lot more that goes into being able to climb a challenging-for-you route than just the capacity of your forearms. You need to be able to climb calmly above a bolt, have your beta dialed in, and generally be able to climb confidently and efficiently. These are all skills that take practice. You aren't going to fully forget how to do them while you're staying at home, but you are going to get rusty. Just like your first outdoor days of a normal season, it's going to take some days/pitches to get back into the flow of things. What this means is that you're going to need to spend some time getting back into outdoor climbing before you can really get after it on your project. Those days sound like a pretty good time to regain your endurance to me.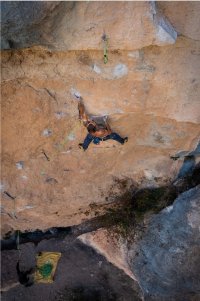 Estaban Lahoz entering the first crux of Negocié 8b in Siurana | Photo: Matt Pincus | @mpincus87
An Opportunity: Don't Miss It
There you have it. You're going to lose some endurance and that's ok. You don't need to worry about training it if you don't have the proper equipment to do so. What should you be doing, though? Should route climbers be doing anything they possibly can to maintain as much endurance as they can or are there more effective uses of their training time and energy?
I would argue that, at best, trying to maintain your endurance right now is like running on a hamster wheel. You're going to put in a lot of effort, but you're not really going to get anywhere. The bigger problem here isn't the wasted effort, but it's the other training opportunities that you are missing as a result.
Rather than asking yourself, "How can I maintain as much endurance as possible?" when we've already established that losing some is inevitable and not a big deal, a better question to ask is, "What can I focus on training where I can really make some progress and move the needle?" No matter what kind of climber you are, the obvious place to start is strength.
Strength is the foundational physical attribute and is a prerequisite for developing high levels of climbing-specific power, power endurance, and endurance. Do yourself a favor and use this time to get strong. Doing so may not help your climbing performance the first day back at the crag, but it will help you dramatically in the long run.
If you don't know where to start, the TrainingBeta At-Home Training Program Ebook is a good option. It gives you both a wide variety of exercises to choose from, options for different amounts of available equipment, and a framework for understanding how to train strength.
No matter how you end up training, remember the goal should be to get stronger and build a good foundation of general strength that will serve you well when we get back to climbing.
Cover Photo: Sean Bailey fighting the pump on Joe Mama 5.15a | Photo: Matt Pincus | @mpincus87
About The Author, Matt Pincus
Matt is a boulderer and a sport climber from Jackson, Wyoming. He spends most of his time on the road living out of his van. Matt is responsible for most of the blog posts and social media posts for TrainingBeta and is our head trainer. He's a seasoned climber and coach who can provide you with a climbing training program from anywhere in the world based on your goals, your abilities, the equipment you have, and any limitations you have with time or injuries.
Train With Matt
Matt will create a custom training program designed to help you target any weaknesses so you can reach your individual goals. Whether you need a 4-week program to get you in shape for an upcoming trip or a 6-month program to make gradual strength gains, he'll create a weekly schedule of climbing drills, strength exercises, finger strength workouts, and injury prevention exercises tailored to your situation.